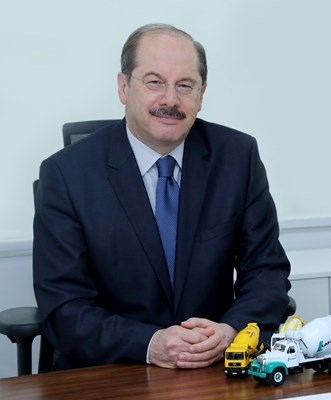 Yavuz IŞIK
THBB Yönetim Kurulu Başkanı
President 
As the representative of the ready mixed concrete sector, we have been working to promote the production and use of quality, accurate, environment-friendly, and sustainable concrete, which is required for the construction of safe and durable structures in our country, since our establishment in 1988. We have announced our "Ready Mixed Concrete Sector Report," which scientifically analyzes our sector that contributes significantly to the economy of our country, particularly in view of 2020. The report we drew up in the light of the data of the Statistical Institute of Turkey, T.R. Central Bank, Union of Chambers and Stock Exchanges of Turkey as well as the data and information provided by our Association and its members contains detailed analyses, assessments, and projections regarding Turkey's economy, the construction sector, and the ready mixed concrete sector. 
According to 2019 data, the ready mixed concrete sector has a very important position for Turkey's economy and the construction sector, with its production of up to 77 million cubic meters per annum, its turnover in excess of 17 billion Turkish liras, and its employment volume over 31 thousand. Our country has been the leader of Europe in concrete production since 2009. Our sector provides substantial contribution to the construction sector and, accordingly, to the national economy. This condition shows that the ready mixed concrete sector is the most fundamental branch of the construction sector. 
The ready mixed concrete sector has had a steady growth trend until 2017 and culminated with an annual production of 115 million cubic meters in 2017. A sharp drop was experienced in 2019 upon the contraction of the construction sector in 2018 and the persistence of it. The ready mixed concrete sector retarded to 10 years ago, with the value of its production in 2019. Along with the decline in volumes, an apparent decrease took place in the number of companies and plants. Our Report that shows that the ready mixed concrete sector has contracted to a significant extent in recent years invites attention to the requirement of preparing a "Construction Sector Strategy Document" for the sustainable development of the country.
---