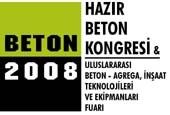 The Beton 2008 International Ready Mixed Concrete Congress was held in İstanbul between 19-21 June 2008. 65 papers were presented at the Congress in the proceedings of which more than 500 people participated. The papers were grouped under the following topics: Constituents and Design of Concrete, Concrete Applications in Construction, Special Concretes, Production and Application Technology, Architectural Concrete, Regulations and Quality Management Systems, Sustainability and Life Cycle in Concrete, Marketing and Sectoral Problems, Aggregates and Concrete Pavements.
The Congress that gathered together the members of ready mixed concrete, construction and aggregate sectors from Turkey and abroad took off with opening speeches on 19 June 2008. In his speech, Paksoy stated that Turkish Ready Mixed Concrete Association celebrating the 20th anniversary of its foundation has been the symbol of quality in Turkey for twenty years. He said, "During the founding years of Turkish Ready Mixed Concrete Association 30 facilities producing 1.5 million cubic meters annually supplied about 5 % of concrete production in Turkey. Whereas now, over 800 facilities producing 74 million cubic meters account for 95 % of concrete production and and our country's ready mixed concrete production occupies the third place in Europe. Strength classes of ready mixed concrete have increased considerably."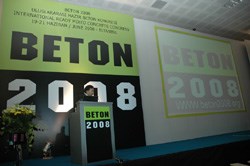 The congress lasting three days ended on 21 June 2008. Prof. Dr. Hulusi Özkul who gave the closing speech and evaluated the Congress, said that the organization was very successful and thanked all those who contributed in the organization, members of the Board of Science, Session Chairmen and those who presented papers at the congress.
All New Products and Equipment were on Display at the Beton 2008 Exhibition
"Beton 2008 International Concrete-Aggregate, Construction Technologies and Equipment Exhibition" gathered ready mixed concrete, aggregate and construction sectors at the New Exhibition Complex of İstanbul Expo Center between 19-22 June 2008. The Exhibition constituted an occasion to meet for members of ready mixed concrete, aggregate and construction sectors both from Turkey and from abroad. 100 manufacturer and supplier firms providing service, machinery and equipment for ready mixed concrete, aggregate and construction sectors. Alongside ready mixed concrete, the firms participating in the Exhibition presented a broad variety of products including concrete batching plants, work machines, trucks and tow trucks, truckmixers, pumps, formwork systems, cranes, various concrete chemicals, automation systems, special tire and petroleum products, sectoral machinery to ready mixed concrete producers and constructors. Over 5 thousand professional visitors including owners, CEOs and professionals of firms doing business in ready mixed concrete, aggregate and construction sectors attended the Exhibition, which with its success has become a source of pride for the construction sector.
The Fair was inaugurated on 19 June 2008 with the participation of Tanıl Küçük, the President of the İstanbul Chamber of Industry (İSO).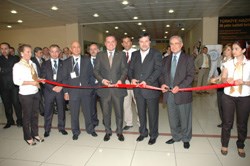 Beton 2008 Fair Participant Firm List:
Akçansa, Alfatek, Alffett, Apa Yayın Grubu, Aramedya, Ase Makine, Aydos, Aymak, BASF, Baz Makina, Beksa, Beta, Betonstar, BMC, Boom, Bozdağ Mühendislik, Burçelik, Castrol, Çobanoğlu, Deka, Doğuş Otomotiv, Doruk Makina, Draco, Duduoğlu, Dünya Yayıncılık, Eksaş, Eksen, Elimko, Endo Kollektif, Fore, Forsen, Global Sistem, Göker, Grace, Güriş, Güven Endüstri, Güven Makina, Harput Makina, Hases, Hidromek, Hürriyet Gazetesi, İksa, İmer, İntes, İran Ferrosilice, Işık İnşaat, Jin Long, Kamer Makina, Kanat Boyacılık, Kar-de, Kalite Güvence Sistemi, Lafarge, Maats, MAN, Makina Sektör, Maya Basın, Mdg, Meka Mühendislik, Mercedes-Benz, Merkez Prefabrik, Mikrohost, N&T Grup, Nace, Na-Mak, Nitromak, Nuh Beton, Nursan, Ok Kardeşler, Opet, Özbekoğlu, Özmak, Öztreyler, Palme, Peri Kalıp, Petrofer, Pi Makina, Polipropilen, Proksis, Putzmeister, Remak Redüktör, Renault Trucks, Sarnıç İletişim, Seda İnşaat, Sefar İnşaat, Sentez Makina, Serdar Otomotiv, Set Beton, Sif, Sika, Şatana Yayıncılık, TÇMB, Temsa, Türkiye Hazır Beton Birliği, THBB Yapı Malzemeleri Laboratuvarı, Tırsan, Titan, Tms Tüfekçioğlu, Vurmak, Wacker Neuson, Yolaşan, YÜF.
---