CONSTRUCTION, READY MIXED CONCRETE, CEMENT, AND AGGREGATE SECTORS TO MEET IN BETON 2023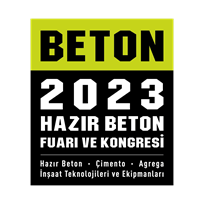 Congress Date: 8-10 November 2023
Exhibition Date: 8-11 November 2023
Arranged by Turkish Ready Mixed Concrete Association and organized by TG Expo, "BETON 2023 Ready Mixed Concrete Congress and Exhibition" will bring together the ready mixed concrete, cement, aggregate, and construction sectors. BETON 2023 Ready Mixed Concrete Congress will take place on November 8-10 2023 and BETON 2023 Ready Mixed Concrete, Cement, Aggregate, Construction Technologies, and Equipment Exhibition on November 8-11, 2023 at Istanbul Expo Center in Yeşilköy.
The ready mixed concrete sector constitutes a very important venue for the economy of Turkey and the construction sector, with its turnover exceeding six billion dollars, employment volume exceeding 37 thousand, and annual production of 105 million cubic meters, according to the official data of 2022. In this context, "BETON 2023", which will host the most important exhibition and congress of Turkey and the nearby geography, will bring together all the stakeholders of the sector under the same roof.
THBB that conducts work on increasing the quality and amount of use of the concrete produced and used in our country organized the ERMCO European Ready Mixed Concrete Congresses in 1995 and 2015 and also the ready mixed concrete congresses in 2004, 2008, 2011, 2013, and 2017. THBB  that believes that the sector will develop through mutual exchange of opinions decided to organize a congress in 2023 for this reason. BETON 2023 Congress will be held in honor of Prof. Dr. Mehmet Ali Taşdemir.
At the BETON 2023 Congress; Papers that will contribute to the development of our sector will be presented with invited speakers on the topics of circular economy and sustainability in concrete; Industry 4.0 and digitalization in the ready mixed concrete sector; concrete properties, components, design, and testing; special concretes and their applications; concrete pavements and road concrete safety structures; innovative approaches and products in concrete; quality control of concrete at the production stage and onsite; durability and internal structure properties of concrete; and current subjects and structural applications in the ready mixed concrete sector.
The developments regarding the BETON 2023 Congress can be followed at the address of www.beton2023.com.
BETON 2023 CONGRESS MAIN SPONSORS
BETON 2023 CONGRESS 
OFFICIAL SPONSORS
The most Important Sectoral Meeting of the Year: BETON 2023 Exhibition
Alongside the Congress, "BETON 2023 Ready Mixed Concrete, Cement, Aggregate, Construction Technologies, and Equipment Exhibition" arranged by THBB and organized by TG Expo, will be the most important common platform related to the ready mixed concrete sector. The latest technological products, tools, machinery and equipment, services and equipment related to the construction, ready mixed concrete, cement, and aggregate sectors will be exhibited at the exhibition, which will be held in the halls 9, 10, and 11 of the Istanbul Expo Center between 8-11 November 2023. In addition to ready mixed concrete and cement equipment, a very wide range of products including primarily concrete plants, construction equipment, trucks and tow trucks, truck mixers, pumps, molding systems, cranes, various concrete chemicals, automation systems, rubber and fuel oil products, and sectoral machines will be presented to concrete and aggregate producers and construction builders at the exhibition. Expected to be visited by numerous professional participants from Europe, Asia, Africa, and the Middle East, the Exhibition will bring together many companies from the sectors related to construction, the locomotive of the economy, and ready mixed concrete, its most basic branch, under the same roof.
The developments regarding the BETON 2023 Exhibition can be followed at the address of  https://betonfuarivekongresi.com  

BETON 2023
SUPPORTING ORGANIZATIONS 
---