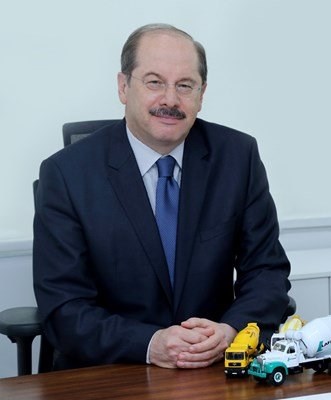 Yavuz IŞIK
ERMCO ve THBB Yönetim Kurulu Başkanı
President of ERMCO and THBB
More than 70% of the population in Turkey live in the areas with "high earthquake risk" and 6,7 million houses that are unable to resist earthquakes must be renewed. In recent years that included the agenda of urban transformation and structures resisting earthquakes, a requirement for a research center with the ability of conducting advanced-level analyses and fulfilling the needs of the sector took place. Accordingly, by undersigning another significant project, we founded the Center for Consultancy on Concrete Research, Development, and Technology of Turkish Ready Mixed Concrete Association. Our center was put into service through the partnership with Yıldız Technical University within the scope of the Financial Support Program for Innovative and Creative Istanbul of Istanbul Development Agency that acts under the coordination of the T.R. Ministry of Industry and Technology. İSTAÇ, Istanbul Technical University, and Boğaziçi University provided contributions to the project as participants. With our center, we aim to ensure the conductibility of advanced-level tests in identifying concrete quality and fulfill the needs of the sectors of construction and ready mixed concrete for consultancy on R&D and technology. It will be possible in our center to provide producers with support on the stage of design as well as of the checks for product compliance, by also providing services prior and subsequent to production. Our center will serve for contractors; producers of ready mixed concrete, precast concrete, cement, aggregate, chemical and mineral admixtures; our citizens in need of advanced-level tests in determining concrete quality on their buildings. Our country has attained a significant position in concrete R&D through our THBB Center for Consultancy on Concrete R&D. I wish that our center will bring good luck to our country and nation.


---